Summer is almost here! After all the end-of-the-school-year craziness, (Is it even possible to schedule one more thing?!) I can think of nothing better than sprawling out in the shade and reading a good book. Snuggling up with the kiddos on a lazy morning and binge reading Harry Potter sounds heavenly!
But what if your kids are not so hot on reading? What if it's just way easier to pick-up the phone or iPad or flip on the TV?
Try a few of these easy tips to get your kids reading more this summer.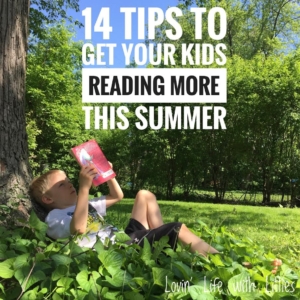 Why Read?
We have all heard the horrors of the "Summer Slide." Children lose reading and math skills, as well as general cognitive abilities.
The truly scary part is that studies have shown that those losses are cumulative and "summer learning differences during the foundational early grades help explain achievement-dependent outcome differences across social lines in the upper grades, including the transition out of high school and, for some, into college."
That means, what happens in childhood summer months has lasting effects into high school and even placement in college.
The good news is that we as parents can create an environment where those summer months turn into long term gains for our children.
Ideally, summer will include math, reading, and expanded learning opportunities for all children.
Including lots of reading during the summer will prevent a loss of reading skills and help in sending kids back to school in the fall ready to learn.
14 Tips to Get Your Kids Reading More This Summer
Build a fort and read in it.

Let the engineers go to work inside with cushions, chairs, and blankets. Try using sheets for a lighter-weight roof and clothespins to keep it all in place.
An amazing summer project could be a tree-fort! Even camping out in a bush or tree with a book is fun.
Make a challenge of finding unique places to read.

Take turns choosing books to read.

Open each others eyes to new genres and various topics.
When it's your turn, consider choosing books at a slightly challenging reading level, as not all kids will choose those on their own. This is a great guide for choosing books at appropriate reading levels.
Common Sense Media is a wonderful resource to help you evaluate content and decide what is appropriate for your Littles.

Read out loud.

Even as an adult I love listening to someone else read. Use voices and sound effects to really enliven characters.
Some of our favorite read-alouds include My Father's Dragon series, Charlotte's Web, anything by Dr. Suess or Bill Peet, There's a Monster at the End of This Book, Amelia Bedelia, Elephant and Piggie stories, Pippi Longstocking, The Adventures of the Bailey School Kids, Flat Stanley, and of course, The Book with No Pictures.

Get involved at your local library.

Many libraries have summer reading programs with incentives and fun events.
Ask a librarian for a reading suggestion.
Check-out an audio book.
Choose a different shelf each time you visit and pick a book from that shelf.

Read together.

As I mentioned, snuggling up together with a book is my happy place. Listen while your child reads, take turns reading pages, or even have the youngest just sound out a word or two on each page or find the letters of his or her name.
This is also the best way to know how your child is really doing with independent reading.

Require reading before screen time or other privileges.

Make it routine. Read first, tech later.
If you'd like a sample system, this is what we did last summer. The kids loved it!
I'll be sharing soon what we're doing this year that is more child-led. I'm excited for it!

Talk about what YOU are reading.

Example is a powerful motivator.
Let your kids know that you enjoy and value reading.
Mention what you're reading occasionally, tell them the whole story sometimes, and let them find you reading often. My kids love to hear the stories I have read. This is a favorite pastime during road trips.

Read over meals.

We all eat, so we can all find time to read.
We like to have family talk over dinner, and usually we read scriptures at breakfast time, so I find that lunch is amazing for reading. Let each kid bring a book to the table for Mom or Dad to read while they eat.

Start a new book series.
Track your reading progress.

Set a goal together with your child for how many books or minutes you want to read this summer.
Visually track your progress with a fun chart or stickers. This site has free printable summer reading logs and some other great ideas.

Culminate with a movie night.
Pack a book for an adventure.

Slip a book or two into your pack while hiking, biking, or picnicking. Enjoy a chapter while you rest on the summit or eat your lunch.

Enrich summer experiences.

Enrich your summer visits with fiction and nonfiction stories about your travel destinations.
Read in preparation for the trip or pack the books to help the travel time go smoother.

Write stories.
Remember Why, The Real Why
Do not let reading become another box on a long checklist. Do not allow your good intentions to help your kids academically become the focus.
Reading is powerful. Ben Carson is an example of someone whose life was transformed through reading.
We want meaningful transformations for our children. We encourage our kids to read knowing it will help them. We want our children immersed in books because we love them.
The why is and always should be the Littles.
Treasure this summer with your kiddos! It will fly by far too quickly; it always does.
Before we know it, we will be sending these Littles back to school. Let's send them with minds rejuvenated and ready. Let's send them with stories to share and summer memories to treasure.
14 Tips to Get Your Kids Reading More This Summer (Printable PDF)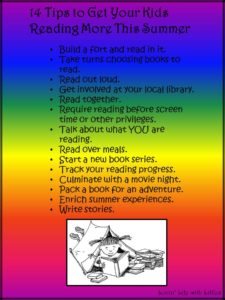 *This post contains affiliate links. Shopping through those links is a great way to support Lovin' Life with Littles at no additional cost to you. Thanks for your support!