We all know pornography is out there. We have probably even heard the statistics: shocking numbers that say our children will be exposed to pornography by the age of 11.
Unfortunately, we know from experience that the numbers are true, and here is what we have learned.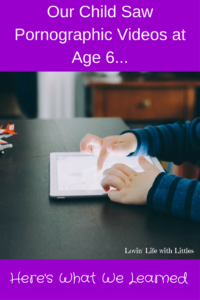 One evening we ate a family dinner at a friend's house. The food was delicious, our kids played well together, and we thoroughly enjoyed ourselves. Sometime after dinner, my husband realized that we hadn't seen the kids for a bit and went to check on them. He brought the youngsters back outside where the adults were chatting, and the kids were happy to jump on the trampoline. Awhile later, we said our goodbyes and took our children home for bed. After goodnight tucking in, my husband wanted to chat.
My husband told me that when he had gone inside to get the kids, he found our six-year-old with a friend watching pornographic videos on their family's iPad.
I was shocked, and I was saddened by what I felt was a loss of some childhood innocence.
With the knowledge that this experience is sadly not rare, I am hopeful that my sharing will benefit others.
Why We Should All Care about Pornography Use
We should all be concerned about the negative impact of pornography on children. Exposure is rampant, with over 90% of 18 year-old boys having seen pornography. Many studies place the average age of first exposure at 11 years or younger.
The initial exposure to explicit media can have a strong, negative, emotional impact on individuals. Kids may feel disgust, shame, confusion, embarrassment, anger, or fear. They can exhibit anxiety and depression.
Exposure to pornography can also peak interest, stimulate sexual brain pathways and organs, and lead to further seeking of intimate media.
According to the American College of Pediatricians (ACP), "Consumption of pornography is associated with many negative emotional, psychological, and physical health outcomes.  These include increased rates of depression, anxiety, acting out and violent behavior, younger age of sexual debut, sexual promiscuity, increased risk of teen pregnancy, and a distorted view of relationships between men and women."
Among the most harrowing dangers of pornography are its addictive properties. Brain and behavioral changes similar to drug addictions have all been reported in multiple studies regarding internet pornography.
Addiction is not only an adult problem either. Kids as young as 12 fear they are addicted to pornography and are reaching out for help.
Adult pornography use affects kids too. Children learn acceptable behavior and belief systems from their parents. Adult pornography use in the home increases the likelihood of unintended child exposure.
Additionally, "For adults, pornography results in an increased likelihood of divorce which is also harmful to children" (ACP).
While we encountered pornography early on in parenthood, it is not a discussion that should be limited to one family, demographic, or belief system. As caring adults, we all need in on this conversation.
What I Think We Could Have Done Better
There are a couple things I learned from our first pornography experience that I believe we could have done better as parents.
Be More Specific in Discussions
I am a health teacher by profession, and my husband is in medicine. Body parts do not scare nor embarrass us. Combine that with the way my husband and I were raised, and we decided very early on that we wanted to be candid with our children about matters of intimacy. We strive to be respectful, age appropriate, and honest.
By age six our child knew the names of body parts and understood modesty. However, I think we should have been (and are now) much more specific in our conversations about pornography.
I truly just didn't realize how young we needed to start.
Now our discussions with all of our kids are much more particular. We teach that "pornography" is videos or pictures of people who wear little or no clothes, who dress or act immodestly or inappropriately. Together, we also talk about and practice what to do if we see that kind of media: recognize what it is and choose to look away. We will ask questions like, "What would you do if your friend held up the phone and there was an inappropriate picture showing?" Our discussions also include why people make pornography (they don't understand what is healthy or moral, they want money, etc.). We periodically and casually ask if they have seen pornography and try to make it an open conversation so that our kids can ask us any questions or tell us any stories that come to mind.
This is an extremely age-appropriate and respectful video that introduces children to what to do when they see pornography.
As soon as children are old enough to control a device, they are old enough to begin learning about appropriate use of that device.
Set Ground Rules about Devices at Home AND Other People's Houses
Setting ground rules for devices is an area where my husband is much better than I. I am more naïve, and he is much more careful (appropriately so). I believe the night he went inside to find the kids, he already worried that devices were being misused.
We had rules for devices in our home, but we had not really talked about rules for others' homes.
Again, I did not think it should worry me at my child's young age, but I was wrong.
At our house, our kids do not have access to internet in rooms where parents are not present. With the oldest being ten now, that has not been a problem. If you are on the internet, you are in a family space. If you are in your bedroom, you are not on the internet.
We now teach the kids not to use devices at friends' houses, nor when friends are at ours. If we want to watch a movie here or there, we get the okay from all the parents. Otherwise, we use friend time for interacting without technology. While I am sure this isn't followed 100% of the time at other homes, it is a good target to aim for.
What I Think We Did Well
Looking back at the experience, there are also several things I think we did well.
Address the Initial Moment with Calm
I was not there when my husband discovered the kids with the iPad, but I know he didn't make a scene. The kids had no idea anything was amiss.
At age six, they definitely did not understand nor intentionally watch the pornographic videos. However, regardless of age, responding to initial pornography use with shock, shame, judgement, or anger is not helpful.
Involve the Community
The morning after our family dinner, I phoned my friend whose child was involved because that is what I would want someone to do for me. I let her know what the kids were watching. That was when I learned that her oldest son was struggling with pornography, and they were most likely his videos easily accessible on the iPad history. We were able to talk about their family challenges, and the conversation was strengthening for both of us.
Pornography used to be a private matter, but it has reached the point where it needs to be a community discussion. In order to best protect and prepare our youth, we need to have conversations not only in our families, but also with our friends, in our schools, and as a community.
Have the Discussion Early and Often
The following day, we also had a conversation with our child about the videos watched. Our child seemed uncomfortable talking about it, but after moving into the privacy of a blanket tent in our bedroom, we openly discussed what was seen, why people make videos like that, what we should do if the videos come up again, and how grateful we are for our bodies and our knowledge of how to treat them.
The dialogue has continued since, and we hope that our children feel comfortable talking to us about anything and everything. Experiences since this one have shown that so far they are able to confide in us. We are grateful for that.
Teach the Why
In all of our conversations, our underlying motive should always be clear. Our teaching about pornography happens because of love: we love our kids and want what is best for them. We also understand the impact pornography can have on love.
We ought to be candid about the harmful effects such as addiction, isolation, ruined relationships, and distorted perceptions of reality. However, we also want to be honest about the powerful positives of avoiding pornography.
The human body is beautiful, special, and inextricably connected with our inner selves. We have love and respect for our own and others' bodies. It is natural and right to have physical and emotional attractions. As we learn to develop those attractions in healthy and appropriate ways, we can experience the greatest fullness of love.
Power against Pornography
A vast market of people thrives financially from pornography consumption. An adult level of freedom of expression exists as well. Eradication of pornography seems unlikely, although we can work to get closer to that. But we have a choice of how to handle it.
We can avoid the topic because of embarrassment, ignorance, or a lack of making it a priority. If so, we leave the teaching to the media, friends, and whatever happens to be taught at school.
Or, we can take an active role in preparing our children, even our very youngest children, for a world where they will be faced with pornography. Through trusting relationships, where intimate topics are openly discussed, we can prepare our children for a beautiful, wonderful world, where they can choose to look away from that which would degrade or harm and toward that which would edify and uplift.
I believe our child has had zero lasting, negative consequences from this young, single exposure to pornography. That is because we have the power, as parents and as individuals, to choose what happens next.
Is it hard for you to talk to your kids about pornography? What has helped you with those conversations? Share your thoughts and experiences in the comments. Please also share this post with other parents…we all need to hear this message.