Have you ever felt so loved it made you cry?
On Monday, I had an emergency appendectomy. Maybe that makes me hyper-emotional, but this week I have been overwhelmed by the love I experienced. I felt my mom's worry and prayers from a far. I saw my husband pack-up and drive-off with four crying children, so that I could have time and space to recover. I heard my baby girl asking for me over the phone, "Mama!" Friends, family, and neighbors have reached out in sincerity. And I have recognized the hand of the Lord in the timing and details of this experience.
This kind of love is powerful.
This kind of love heals wounds, encourages us to treat others better, and brings light to our eyes.
I want everyone to be able to feel this kind of love, especially my children, and especially at this time of year.
Yesterday, the lights went up around the neighborhood, consumers hit the stores, and it became socially acceptable to listen to Christmas music. The Christmas season is officially here. Yay! With that comes the opportunity to decide what kind of season it will be for you and your children.
The real magic of the season fills our homes when our kids feel something deeper than excitement that Santa is coming down the chimney. (Even though I love that part too! 🙂 ) If we can help our children feel the kind of love I have experienced this week, then we have given them the real magic of Christmas. If they can know that someone loves them so much that He would give His life for them, then we are making it a season that matters.
The traditions we choose to build in our homes during this season, as well as what we choose not to do, will help our children, and ourselves, feel the love that is the true reason for the season.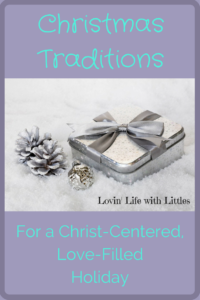 This post contains some affiliate links for your convenience. See the full disclosure here.
Christmas Traditions that Make a Difference
Here are four kinds of traditions that will help us feel the love of the Lord during this season. There are countless specific ways to implement each of these traditions. Choose ideas that work for your family this year and will keep the season simple.
1.  Bring the Nativity Story to Life
The nativity story is humble, relatable, and real.
It is the perfect framework to begin to understand the love of the Lord. Find a way to bring that story to life for you and your children.
Here are a few ideas to bring the nativity to life:
As you read the nativity story together, take turns placing the characters and pieces into a nativity scene.
Read a children's story or sing a children's song about the nativity.
Make or buy a child-friendly nativity set. Let Littles imagine and play.
 Each year, add one piece to your nativity set. Wrap it up and put it under the tree. This is also a more frugal way to invest in a high quality nativity. Alternatively, it makes for a great gift. My parents give us one piece each Christmas, and o

ur kids look forward each year to which piece will join the scene, maybe a sheep or a Wiseman.

Gather simple costumes from around the house and act out the nativity. This is one of our favorite Christmas Eve traditions. My dad is always the donkey with oven mitts for ears!
Take turns reading the story in Luke Chapter 2 and Matthew Chapter 2. Help the smallest Littles with their turns. There is something truly angelic about hearing these words in a child's voice:
"Fear not: for, behold, I bring you good tidings of great joy, which shall be to all people. For unto you is born this day in the city of David a Savior, which is Christ the Lord" (Luke 2:10-11).
2.  Serve
As we serve others, our capacity to love and feel love increases.
Our time is well-spent in finding meaningful ways to reach out to others in our homes, communities, and elsewhere. Raising compassionate children is one of the greatest gifts we can give our kids. This is the perfect time of year to emphasize service. Acts can be big or small, planned or spontaneous. As I experienced this week, all are appreciated and spread love.
Last year, our family participated in Light the World. This gives 25 ways to light the world, as Christ does. Each day there is a short video, invitation, and ideas. I appreciated this because it gave new ideas for reaching out, and we could always find one that fit for our family.
Sometimes serving, especially gift-giving, gets lost in a check-list of doing. Keep your shopping list short and start early. Do at least some shopping online in order to spend more time with your Littles.
Here are a few ways to involve your kids in service this season:
Secret Service Stash- For each secret service performed, put a fuzz ball, bead, or bean in the stash. See how full it can get before Christmas.
Make a homemade gift, card, or cookie for a teacher, friend, neighbor, sibling, or homebound individual.
Help at a food pantry or shelter. Many places receive extra donations this time of year and can use help sorting, shelving, or distributing. Call ahead for age-limits and schedules.
Make a blanket and donate it to a local shelter or a child in need through Project Linus. Here is a very simple pattern for a no-sew fleece blanket the kids can make on their own.
Gifts for the Savior- After reading Matthew 2:1-12, discuss what gifts Jesus would appreciate from us today. Maybe He would want us to speak more kindly to each other or invite somebody lonely to play at recess. Each person write down one gift he or she would like to give the Savior or draw a picture or find an object that represents that gift. Put them in a box without showing other family members. Wrap the box and put it under the tree. On Christmas, open the box, share the gifts, and see how well you did remembering to give those important gifts to Christ.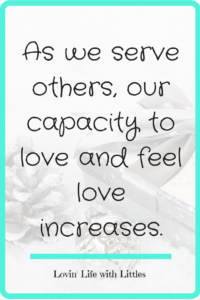 3. Sing
Henry Wadsworth Longfellow is attributed as saying, "Music is the universal language of mankind."
Music is able to express feelings, often in a way words cannot. These feelings are understood by people, regardless of language or culture.
The feelings of the Christmas songs are joyous, awe-inspiring, and loving. Once in a while you get a "Blue Christmas" tune, but even those can turn us to the ones we love now. 🙂
Music helps us connect to each other, our emotions, and the Divine.
Here are some ideas to incorporate the music of Christmas into your life:
Sing a Christmas hymn every night at bedtime.
Carol to friends or neighbors with or without a gift. This dying tradition is always appreciated.
Help your children learn a new Christ-centered song. Recently my kids learned this song about the baby Jesus without me. I loved hearing them sing it.
Expose your children to the classics, such as Messiah and Nutcracker. Play these in the background during a family game night or hit the highlights, including the Hallelujah Chorus.
Visit a nursing home and sing. This is another Christmas Eve tradition in our family. I remember being amazed as a youngster that the Alzheimer patients often could not remember their children's names, but they could remember the words and tunes of favorite Christmas songs. From personal experience, even bad voices are applauded. Teach your kids to look people in the eyes, shake hands, and smile.
4.  Ponder Personally
In any parenting venture, the most important aspect is what is going on in your own heart and mind.
Last year I accepted a challenge to read an entire religious text in the month leading up to Christmas. This averaged to about eight chapters of scriptural text per day. In order to do this, I woke up a little early each day to read and read again before bed each night. As I put forth the effort to be more spiritually minded than usual, I found myself uplifted and focused on what mattered most.
As you take personal time to learn about and ponder the life of Christ and what this season means to you, you will be in the right spirit to help your children feel the love and special nature of this time of year. You will also be prepared to have conversations and extend invitations to your children that allow them to personally ponder the meaning of Christmas.
Here are five suggestions for using personal time to ponder during this busy season:
Wake-up 15 minutes earlier than usual and enjoy the quiet moments to meditate, pray, or read.
Set a scripture reading goal for the season. Consider reading the four Gospels before Christmas.
Participate individually or as a family in a Christ-centered advent. Each day read or tell a story of Jesus.
Every morning and every night kneel in personal prayer. Afterward, sit quietly for a moment and feel.
Write in your journal about what Christmas means to you, how your relationship is with Christ, how you want to follow Him, or what you are grateful for this season. Alternatively, create a work of art that represents one of those.
Christ-Centered is Love-Centered
I love how my then three-year-old used to say the scripture found in John 3:16…
"For God so loved the world, that he gave me his only begotten Son."
God does so love every one of us, that He gives His Son to each of us. I hope during this Christmas season and beyond, that you can feel that love for yourself. I hope you recognize ways God is involved in your life. And I hope that each one of us will choose to cut out the clutter and, instead, create family traditions that help our children feel that love also.