Today we are learning all about the letter F and the sense of smell. My kids loved these activities. Reminiscing about one of the activities still has us all rolling in laughter.
This is part of our alphabet lesson plan series, and the third in our set covering the five senses. Last time we learned about E is for Ears! I hope these plans are helpful for you as you plan full preschool lessons at home or if you are just looking for some fun, educational, and budget-friendly activities for kids. Come along as we talk, sing, read, write, and play our way through the alphabet!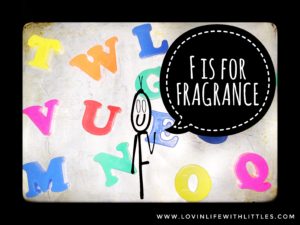 Print the Quick Reference "F is for Fragrance!" Preschool Lesson Plan
Visit the Preschool Lesson Plan Index to see what free plans are published or in the works!
INTRODUCTION:
Sing the Welcome Song. As we sing "Hello to All the Children in the World" each week, we are learning greetings in different languages. Today we learned a little bit more about "Buenos Dias." Using a world map, we located Spain, our own home and a few other places.

I love using the map and talking about other peoples and cultures. It is a great way to help kids start to see beyond themselves.
We talked briefly about how Spanish spread from Spain across south and central America. We practiced a few other phrases such as "Como estas?" (How are you?) and "Me llamo…" (My name is…).
PLAY:
I introduced the shape of our letter of the day, F. Capital F is made of straight shapes. It looks kind of like a flag pole with two flags flying. The lowercase f is made of curvy and straight shapes.
We practiced making the shapes of F and f using play dough.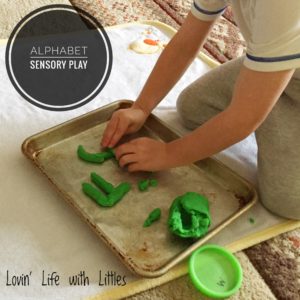 Who doesn't love play dough!?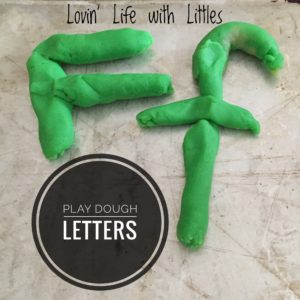 Check here if you need a play dough recipe.
After making the letter of the day, we saw how many other letters Little #3 could make and then played with the dough for a while.
PLAY:
I briefly introduced the sound F makes and then we practiced by playing Letter F Memory. All the pictures for the matches begin with F.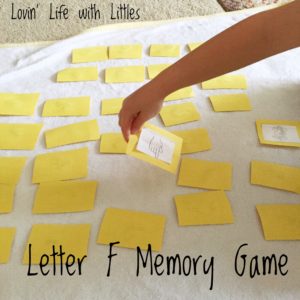 If you haven't played Memory, you begin by spreading out the cards and placing them facedown. Take turns picking two cards. If you find a match, you get to go again.
Use the Free Letter F Memory Cards Printable.
SING:
Do you have any body parts that start with F? Fingers. Feet. What about your face?
Sing, "If You're Happy and You Know It" ("Then your Face will surely show it…")
You can stomp your feet, snap your fingers, wiggle your face, or take turns picking different actions to put into the song.
READ:
It's time to read a really fun poem about your face.
Be Glad Your Nose is On Your Face by Jack Prelutsky (Click to read the poem text.)
Jack Prelutsky has written a ton of funny poems that will keep kids and adults smiling. We borrowed the following book from the library, and my kids loved listening to the CD while looking at the vibrant pictures.


TALK and READ:
Today we are going to learn more about how that wonderful nose (on your face!) helps you learn about the world by smelling.
We briefly reviewed the other senses we've already learned about that help us discover the world (taste and hearing).
I then used the pictures and parts of the text from a nonfiction book about smell to discuss how noses smell. Simply, cells receive the smell in the nose and send a message to the brain.


We talked about some of the benefits of smelling. It can be a warning if something is burning or if food has gone bad. It also helps us enjoy and have good memories. We talked about some of our favorite smells.
PLAY and WRITE: The Smell Test!
I had previously prepared several items with distinctive smells including lemons, a candle, cinnamon, pepper, onion, potpourri, beef bouillon, and mints. I placed these items on a tray and under a towel. I also had one small Lego for each item.
I blindfolded Little #3, and he smelled each item, one at a time. After smelling the item, he decided if he liked the smell or not. If he liked it, the Lego went on the "Like" tower. If not, the Lego went on top of the "Don't Like" tower.
After testing all the smells, Little #3 traced the towers to make a simple bar graph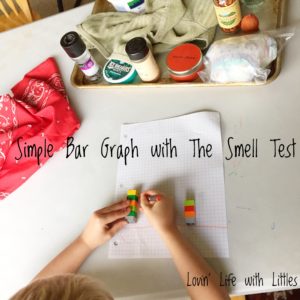 This was a fantastic way to introduce graphing. The Lego manipulatives helped make sense of the one-to-one relationship between the smells and the height of the different bars.
You know your audience, but knowing mine, I also included a known "Don't Like" smell…one of Little #4's dirty diapers! (You could also use a dirty sock.) The reaction to that was priceless. I wish I had it recorded!
When the bigger kids got home from school, they wanted to do The Smell Test also. The diaper was hilarious, and the kids reminisced about it for days.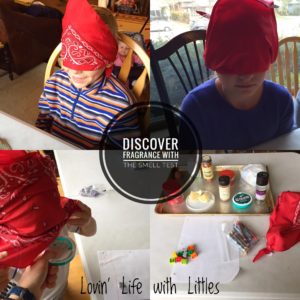 EAT:
We were ready to eat, so we feasted on fish crackers and fruit! 😉 Other options are fish sticks, fruit snacks, French bread, figs, or Fig Newtons.
READ:
We didn't like the smell of the diaper or the garlic. Are there any other smells you don't like? What about a skunk?
We read Skunkdog by Emily Jenkins.
In this fun story, Dumpling the dog doesn't have a sense of smell. When he makes a new stinky friend, his family wonders what they can do about it.
WRITE and CREATE:
We used this Free F is for Fragrant Flower! Printable.
Little #3 traced the four F's on the picture.
Next we mixed a paste of flour, water, and a fragrance of his choosing. Options include lemon extract, almond extract, lavender essential oil, etc.
He dipped small pieces of tissue paper in the paste and glued them on the paper to make a flower that actually smells good!
SING:
After making this beautiful flower, we sang about some! The second verse says, "In my pretty garden the flowers are nodding…"
READ:
We finished up by reading a poetic book by Alice Walker, There is a Flower at the Tip of My Nose Smelling Me.
The vibrantly colored pictures flow as the young girl sees the world from a different perspective than we're probably used to.
SING:
It's time to sing the goodbye song, and see you next week!
Hopefully we'll see YOU next time as we continue learning about the senses with sight and G is for Googly Eyes.
To receive that post and all the others right to your inbox, be sure to follow by email.
Leave a comment to let me know what activities your Littles are enjoying, what types of posts you'd like to see, or any other questions or thoughts you have.  I love hearing from you. Share pictures on social media using #lovinlifewithlittles. Thanks for visiting and Happy Preschooling!
This post may be shared at some or all of these link parties that I love.
*This post contains affiliate links.  Shopping through those links is a nice way to support Lovin' Life with Littles at no additional cost to you.  Thanks for your support!
Pin for later!