As a frugal family of six that is edging toward minimalism, we don't buy extra stuff year round. That means Christmas and birthdays are the times to find special gifts the kids will enjoy for at least the next year. I've gathered some of our best gifts from over the years in case you are looking for some fun ideas that the kids will enjoy over and over.
Gift Guide for the Family
The gift ideas are organized by age: Smallest Littles (Age 0-2), Middle Littles (Age 3-6), Bigger Littles (Age 7-10), and Gifts for the Whole Family. These gifts will entertain, educate, and make life simpler. I hope these ideas help simplify your celebrations!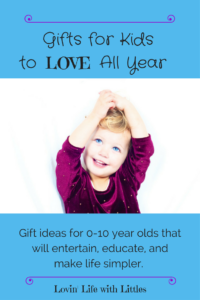 This post contains affiliate links for your convenience. Shopping through these links is a nice way to support Lovin' Life with Littles at no additional cost to you. Read our full disclosure here.
Gifts for the Smallest Littles (Age 0-2)

Our toddler LOVES these Melissa & Doug Deluxe Wooden Lacing Beads
. She stacks them like blocks and just recently started lacing them. The variety of shapes and colors are perfect for sorting practice, and you can't beat the quality of Melissa and Doug products. This is the only toy that stays permanently in our living room!

This is the first book that made our toddler laugh out loud. Even the youngest kids understand the humor in the silly turkey who can't seem to get his clothes on right. "Oops!" You can get Blue Hat, Green Hat by Sandra Boynton
as a stand-alone book, or it is also included in this bundle of Boynton's Greatest Hits
. The sturdy board books are perfect for little hands and last through night after night (and child after child) of story time.

I saw these Munchkin Miracle Sippy Cups
at the first birthday party for my friend's daughter. I did not understand how it worked, so I had to try it myself! And then guess what I got my daughter for her first birthday? 🙂 Over the years, we have been through countless sippy cups. I love that these do not have a spout to bite and break nor a straw or crevice that is impossible to keep clean. They come in a variety of vibrant colors as well.

This is the age when kids start to color and create. If you have a toddler with older siblings, these markers are genius! The little guys always want what the older ones have, so crayons are not going to cut it when others are coloring with markers. Crayola's Color Wonder Markers and Paper
look and feel like regular markers and paper, but the markers only work on the special paper. They won't color on hands, carpet, or the neighbor's clothes when you're traveling. My sister's mother-in-law raised  truly artistic children. A simple tip from her: give kids blank paper to inspire creativity rather than pictures to color in. (It's more economical to buy this set altogether, but I'd suggest giving half and saving half for later!)

Your new sitter-upper can hammer the balls, which then roll down the xylophone. This Pound & Tap Bench with Slide Out Xylophone

combines hand-eye coordination with music in a format kids will love. The xylophone slides out for stand-alone play.
We start reading with our babies while they are in the womb and never stop! Reading together is, of course, educational and builds the foundation of a strong reader, but the bonding benefits are also beautiful. I love this Bright Baby board book series with its simple, bold pictures. I'd recommend First Words
, Animals
, and Colors
. They also have a Touch and Feel Boxed Set
. Snuggle up and read!

If you are looking for a little something, this Baby Einstein Take Along Tunes Musical Toy
is perfect. I asked my oldest what the best baby toy is that we own, and after a confused look, this is what she said. Then she went on to hum all the songs. 🙂 I like this one because unlike some other noise-making toys, this one does not get old or annoying. The songs are classics and the button is easy enough to push that babies quickly find joy in hearing the reaction to their action.
This Fisher-Price 3-in-1 Sit, Stride & Ride Lion
is a little different than ours, but I love having an indoor toy for large muscle movement. The kids have all ridden these around and around the house. The balls and buttons make it a multiple-use toy, which I appreciate. Our favorite sit and ride of all time is the Radio Flyer Classic Bumper Car
, which is apparently a collectable now. If you ever have a chance to snatch it at a garage-sale, go for it!
Gifts for the Middle Littles (Ages 3-7)

If you know me, you probably know how much I love these CozyPhones Kids Headphones
. No more, "Mom, the ear buds won't stay in!" We are not too techy around here. Even though we don't have that much screen time, I love having these headphones. The kids mostly use them for playing on the iPad and listening to audio books. The fleece headband is comfortable and fits a range of head sizes. It is washable too! The nylon cord is durable, and it all packs well for travel.

This is the age of pretend play, and I love fueling that! Whether we're playing house or restaurant, our Toy Kitchen Playset
is in constant use over here by kids of all ages really. Ours is a little different than this one, but my kids would love the pass-through window for drive-through play. This kitchen set comes with baking accessories, but grab a set of pretend food
to complete it. Costumes
are another way to encourage imaginative play. We recommend Little Adventures. They have a huge range of durable, machine-washable costumes and accessories for every interest.
The Fast Lane mini flipping remote control car is amazing! It is fast, flips, and fun for all of us to drive. The car is tiny (about three inches long) and is pretty durable from what we have put it through. Add to that, you absolutely cannot beat the price.

It might make you laugh, but this dustpan and broom
gift was actually a highlight last Christmas! If your house is anything like ours, the kids are busy helpers. Getting a broom that is three feet tall and a dustpan that stands upright was genius. The Littles love being able to do their helper jobs on their own now. Mom is not sad about that either!
As much as I loved building with Legos when I was kid, I actually hesitated to start on the Lego route in our home. Truthfully, the fear of little pieces constantly gracing my floor held me back. However, the kids have been pretty amazing at keeping track of all their pieces. Legos continue to be incredible for fun, imaginative play. They even build skills in following directions (both the instruction manual and Mom's pick-up rules 🙂 ). This LEGO Classic Medium Creative Brick Box
is great for a first-time set or to bulk up your current collection.


One of the kids received this Grow 'n Glow Terrarium Science Kit
as a gift, and it was an instant hit. It was fun to learn what a terrarium is and to decorate it, but the most excitement came in watering and watching the seeds grow. There are enough materials to plant the habitat a couple times.

Our friend has this Inflatable Hopper
, and it's a hit! It's bouncy fun for a range of ages. We have the classic Hopper Balls
, and I also recommend those. They are great for indoor and outdoor play.
Unleash the inner creative with Crayola modeling clay
. Every year, I like to get my kids something that encourages their art skills. Modeling clay is fun for a change of pace. You can sculpt creatures, decorations, beads, and more. The clay will air dry over time so you can save the creations.
Gifts for the Bigger Littles (Ages 7-10)

Ssssshhh. Don't tell the kids…this one is on our list this year! The kids played with this Snap Circuits Jr. Electronics Discovery Kit
at a friend's house and were completely enthralled. They can follow the directions to create different projects or experiment on their own. Hours of engineering fun here!
TRIVIAL PURSUIT: World of Harry Potter Edition
is a super-find for the Harry Potter fan. The questions cover everything from spells and potions to creatures and characters. It is compact for easy travel and storage. We've enjoyed playing as a family, but it's very clear who the Harry Potter expert really is around here (and it's not one of the adults)! If you don't have Harry Potter fans, try Trivial Pursuit Family Edition Game
.

This Creative Lettering Book
has some fun project ideas and innumerable tips and techniques. It has samples from artists and why they like certain looks. Our ten-year-old has loved it over the past year for ideas for cards, school projects, decorations for the bedroom, and more.
Try a Remote Control Helicopter
for kids who have enjoyed the cars in the past and are ready for a new challenge. They take some practice to fly and provide fun for all. We have found ours to be pretty durable amidst all the crashes.

One Night Ultimate Werewolf
is a unique game, reminiscent of the old night games we used to play as kids at sleepovers. In this version, everyone gets a different role such as werewolf or troublemaker. After a "night" phase, everyone wakes up and tries to figure out who the werewolf is. The app makes this game easy to follow and interactive for all. This game is great for older kids and adults.
Gifts for the Whole Family to Enjoy Together

I don't remember if this was a gift for a child or an adult in our home, but over the past decade the over-the-door SKLZ Pro Mini Basketball Hoop
has given us countless hours of healthy fun. Regular basketball games to 100 are just the beginning. Think you can make it laying down from the couch? Backwards? From the far door? The shatterproof backboard and break-away rim really kick things up a notch. Good luck!
We have more than loved our giant bean bag
since we received it as a wedding gift. It's awesome for family movie nights or snuggling up and reading books together. The latest craze here is diving football catches into it! We have a different brand that's no longer in business, but my daughter has a smaller Big Joe Bean Bag Chair
, and the comfort is great. These big ones come in a small package and fluff up over a week.

Family game nights are a regular around here. We spend a lot of time with the classics like UNO
, Sorry!
, and Go Fish
. This year, we are adding Bop It!
to our collection. It is a game of quick reactions. This version can be played in classic mode with commands like bop it and twist it, or you can use up to ten new commands like sing it and hammer it.
When we were young, we got a Laser Tag game to play at home and absolutely loved it! We spent hours running around the yard and house. The Laser X Laser Gaming Set
would provide fun for all ages. It can be played in free-for-all mode or on teams.

We still gather even the older kids for bedtime stories. The Disney Storybook Collection
has so many favorite Disney stories with a mix of the classics and newer ones. There are several editions of the collections, all with different stories. We have loved our Disney collections for road trips as well because we have so many options in one book.
Inspire all the artists in your family with new Crayola Washable Tempera Paint
. The clincher for me though, is the set of Air-Tight, No-Spill Paint Cups
. We have pulled the paint out so much more since we got these cups. They are great for limiting spills and saving extra paint. We waste much less, so our paint goes much further. Round off the gift with Children's Tempera Paint Brushes
, Pad of Giant Paper
, and a Paint Cup Caddy
.
I hope these gift ideas are helpful for you and enjoyed by the Littles in your life!